"Só procura a gente quando quer alguma coisa..."
Laurinha (Que bateu na filha)
Apelidos
Laurinha que bateu na filha
Características
Gênero
Feminino
Idade
Desconhecido
Ocupação
Desconhecido
Relacionamento
Desconhecido
Mídia
Estreia feita em
One flew over Ruiva's nest - 3.03
Última aparição
One flew over Ruiva's nest - 3.03
Dublagem por
Raony Philips
–Duny Falando de Laurinha
Laurinha é uma velha amiga das garotas da pensão, ela conhecida por todos como: "Laurinha que bateu na filha" por já ter agredido sua filha não mostrada na série. Ela tem sua 1ª aparição na série (e até então última) no episódio 3.03 onde aparece na 1ª cena reencontrando Alex, Duny e Honey as quais diz estar com problemas, até que Alex oferece ajuda à ela, que traz seu filho bebê para que as garotas cuidem... Mas tarde é mostrado que Laurinha só queria "curtir" e não ter que cuidar de seu bebê (já que em uma das cenas do episódio ela aparece no Spa).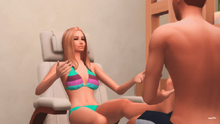 Ad blocker interference detected!
Wikia is a free-to-use site that makes money from advertising. We have a modified experience for viewers using ad blockers

Wikia is not accessible if you've made further modifications. Remove the custom ad blocker rule(s) and the page will load as expected.