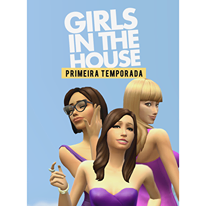 A primeira temporada de Girls In The House começou em 19 de novembro de 2014, e terminou em 1 de fevereiro de 2015. É constitúida por 8 episódios e um especial.
| Nº | Imagem | Título | Lançamento | Duração |
| --- | --- | --- | --- | --- |
1
"Date Night"
19 de Novembro de 2014
12:11
A webserie 'Girls In The House' traz Honey, Duny e Alex, três mulheres que administram uma pensão onde as maiores confusões acontecem. Se prepare para morrer de rir com elas!
2
"Strange Events"
26 de Novembro de 2014
11:57
Tem alguém roubando as coisas na pensão e as meninas se juntam para tentar descobrir quem é.
3
"Young Generation"
4 de Dezembro de 2014
11:48
Duny, Alex e Honey recebem um grupo de crianças na pensão e irão ajudá-los a ensaiar para uma peça teatral.
4
"Back Off, Couple Stuff"
13 de Dezembro de 2014
13:50
Em clima de casamento, as meninas recebem James Roberto e Matilde na pensão, mais uma vez.
5
"Santa Doesn't Give a F"
25 de Dezembro de 2014
9:40
Nesse episódio, as meninas se juntam para procurar um Papai Noel para o natal.
6
"Revenge Play"
18 de Janeiro de 2015
12:10
Após um caso de roubo na pensão, Honey, Duny e Alex descobrem uma conspiração contra elas.
7
"Welcome Back, and Baby"
31 de Janeiro de 2015
11:07
Um retorno inesperado surpreende Alex e Honey e para a surpresa delas, tem alguém grávida na pensão.
8
"OMG"
1 de Fevereiro de 2015
15:10
Chegou o grande dia para Matilde e James Roberto! As meninas da pensão vão ter uma surpresa quando nada acontece como elas imaginavam.
Ad blocker interference detected!
Wikia is a free-to-use site that makes money from advertising. We have a modified experience for viewers using ad blockers

Wikia is not accessible if you've made further modifications. Remove the custom ad blocker rule(s) and the page will load as expected.